A brief history of the club.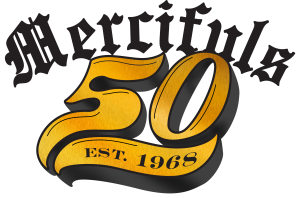 In 1968 Gordon McIlonie and about a dozen of his friends from Millikan High School in Long Beach, California started goofing around with cars. They formed the Mercifuls So Cal Car Club with outings to the desert, and help building their customs and lowriders. The club stayed together throughout the late Sixties and early Seventies when the members grew older, got married, etc. In the mid 1970's the club disbanded, but the friendships stayed alive.
Fast-forward nearly 40 years and some of the original members were hanging out at the 2011 Bixby Knolls show in Long Beach and joked about getting back together. A joke without a punchline I guess. The club restarted with some of the founding members and some original members and some new friends. Within the first year it grew to over 18 members.
The club is different than most, because there are virtually no rules. Sure there's the standard, treat fellow club members and their ladies with respect, no fighting or abuse and such. Then at one meeting there was a complete meltdown and near break-up of the club. What came from that event was a re-invigorated membership. Problems were hashed out and the club transformed to a close-knit, focused group of guys who help each other with their cars, share each others accolades and give back to the community.
Each year, the Mercifuls contribute to the ABC7/LA Fire Dept's Spark of Love Toy Drive. Last year the toy drive included boxes throughout Southern California and resulted in trailer-load of toys for needy kids. Long Beach Fire Department came and picked up a trailer full of toys and a week later several members made it to the Spark of Love Toy Drive at the Honda Center to "stuff a bus"!
You may see the members' cars on this season of Speed Channels' "Chop Cut Rebuild". Host, Dan Woods, used the members cars in the "drive-up" scene in each episode. Many of the members cars were in the pages of Old Skool Rodz and Car Kulture Deluxe.